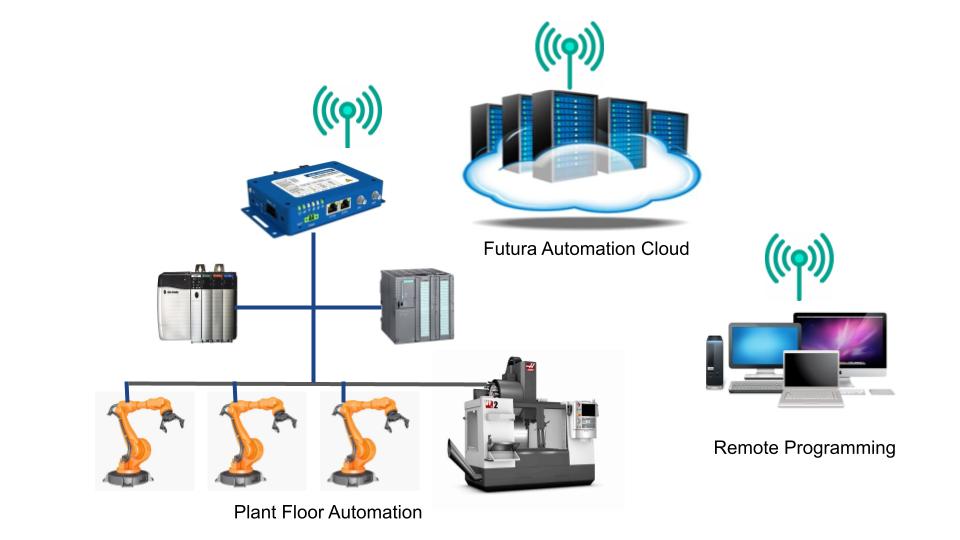 Futura Automation has added a new capability to its services.  As of July 1, 2021, we add CellMate(c) VPN Gateway, an advanced VPN management solution for safe interconnection of our VPN secured wireless and cellular routers and LAN networks over Internet. Connection among devices and networks can be regional or global and can combine different technology platforms and various wireless, cellular LTE, 4G and 5G, fixed and satellite connections. CellMate(c) VPN Gateway provides an easy and secure connectivity platform for applications such as PLC or robot remote access, machine monitoring in industry sectors like Manufacturing Automation, Agriculture, Utilities & Energy, Predictive maintenance, Industrial IoT for any end device types such as PLCs, Robots, Machine Tools, Security Systems, RTUs, Cameras, Computers, and Terminals
CellMate(c) VPN Gateway is the perfect way to connect IP or serial devices to a cellular network. Industrial M2M and IoT applications include kiosks, industrial PCs, HMIs, traffic controllers, meters, UPS systems, and much more. With LTE Cat.4 upload speeds of up to 50 Mbps and download speeds of up to 150 Mbps, the router provides ample bandwidth for high data demand applications such as CCTV or public Wi-Fi hotspots.
In addition to its two independent or switched Ethernet ports, serial ports RS232 and RS485,
CellMate(c) VPN Gateway has built-in digital I/O connectivity, backup real-time clock and sleep mode support. The device has two SIM readers protected by metallic cover for carrier failover redundancy. As an addition the router is ready to use internal eSIM.  Optional built-in GNSS chipset provides information about the accurate position of the router. An optional built-in Wi-Fi module is also available, with 802.11a,b,g,n,ac modes and MO-MIMO support is appropriate for on-board Wi-Fi transport applications. The router supports VPN tunnel creation using various protocols to ensure safe communications. This VPN tunnel direct to the device controller allows for remote programming in the native programming language of the end device, including Rockwell, Siemens, Mitsubishi and any other number of PLC programming codes;  Fanuc, ABB, Kuka, Motoman, UR and any number of robot programming languages;  Haas, Mazak, DMG Mori and any number of CNC machines and much more, The router provides diagnostic functions which include automatic monitoring of the wireless and wired connections, automatic restart in case of connection losses, and a hardware watchdog that monitors the router status.
The CellMate(c) VPN Gateway places intelligence at the network edge with an extremely powerful Cortex A8 CPU at 1GHz, 512 MB RAM and 4 GB EMMC FLASH memory in pSLC mode for a long-lifetime and critical industrial applications. 1.3 GB of memory space is allocated for customer SW applications and data. With open Linux platform and wide possibilities of programming customer SW applications in Python, C/C++ or browser-based flow editor Node-RED the CellMate(c) VPN Gateway offers a real open development platform for Industrial IoT applications. The Advantech existing app library (User modules) with apps already developed to enhance specific router functionality including industrial protocol conversions and support of IoT platforms such as Futura Automation supported Tulip Interfaces, Ignition, and 3rd party MS Azure, Cumulocity, ThingWorx and others are supported on the router.
Do you have contractors or employees that need limited remote and secure access to plant floor automation?  Now you can manage who has access:
Assign access with pre-set durations
Limit access to specific machine networks
Secure Remote Access is available with LTE Cellular Data or WAN with our Hardware and Software VPN  Solution
Remotely program or monitor your plant floor devices and machines with the proprietary software required for each device through the VPN tunnel
Determine when any changes are made to the program through proprietary SW tools
Subscribe to our cellular SIM and cloud-service for virtually unlimited data storage
Our software will think you are plugged in directly to the asset's local network: no need for static IPs
CellMate(c) VPN Gateway is easy to install or Futura Automation can provide turnkey services.  Futura Automation also offers a full featured configuration and monitoring tool for mass deployment.  The router also supports additional traffic and health monitoring software R-SeeNet.