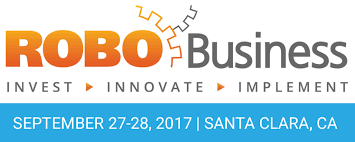 Next week will bring us in the robotics and automation space two big international trade shows: Pack Expo Las Vegas and RoboBusiness 2017 in San Jose, CA.  I will be at both.
I hope to see you at one or the other.  Pack Expo always delights with all the new ways to manufacture and package consumer products.
RoboBusiness is a relatively new show that appeals to cutting edge commercial and industrial robotic equipment manufacturers.  There is always great new innovations to see.  The speaker panels are first class presenting technical insights available only at this event.  Colleagues and friends @Mike Oitzman and @Jeff Chapman are among those presenting.  Many other leading robot development companies will also be represented from Aethon, Carbon, Fetch, Intel, Jabil, Lithium Power, NASA Ames Research Center, Procter & Gamble,  Precise Automation, Soft Robot, Udacity, Vecna, Walt Disney Imagineering and many others.
Here is the video for development of RoboValley in Germany in association with the European edition of RoboBusiness 2017.  I can't wait to see some of these machines in person next week at the San Jose Convention Center.  See you there!