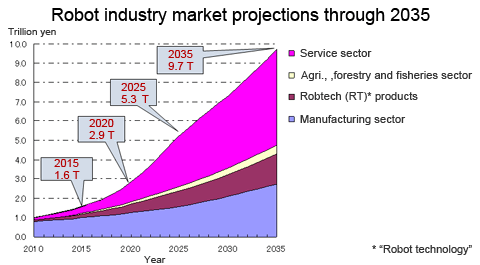 There have been several investor indexes created around the robotics market over the past 20 years.  I myself put together such an index in the 1990s which included Cognex, RVSI, Acuity, ABB, Fanuc, Adept and Yaskawa.  The problem with such indexes is the components were rarely a pure industrial robotics play (exception being Adept Technologies).  Most robotics companies were subsidiaries of much larger diversified industrial enterprises.  Now that is changing in 2017 with several smaller emerging companies going public or in a position to do so.  The robotics market can be seen as a vertical investment unto itself.
Today there is one ETF focused exclusively on the industrial robot space, doing professionally what I did for fun 20 years ago.  The fund is called "ROBO".  As it is professional it also has obligations to inform its investors and so publishes an annual newsletter on the state of the robotics industry in all its elements: 6 axis, SCARA, cartesian, delta and now collaborative robots or "cobots" for short.   Service and mobile robots will be included as they become viable as investments.  Here is an excerpt from the report:
The current rebirth of robotics is arguably related to a recent confluence of technological advances. Robotics had long been stalled in a Tower of Babel in which software advances were not portable nor reusable. New robot designs typically needed to start from scratch from the software development stage. This resulted in a slow advancement of the frontier of robot intelligence. A significant game changer was the introduction of "Robot Operating System" (ROS), which has been supported by Google (via Willow Garage and OSRF) since 2007.

ROS is a robot operating system that is open to everyone, which means that anyone can contribute by uploading original and individual modules for the development and programming of robots. Sharing software modules through open sourcing is just one solution to the classic challenge of developing robotic solutions – that every company must develop custom software modules from scratch. By using the basic components through ROS, developers can shift their focus to directly developing only the newer, necessary components. This ultimately allows developers to create robots with more complex functions from fewer resources. ROS' popularity has exploded, enabling faster, lower-cost robotics company start-ups and faster technological development.