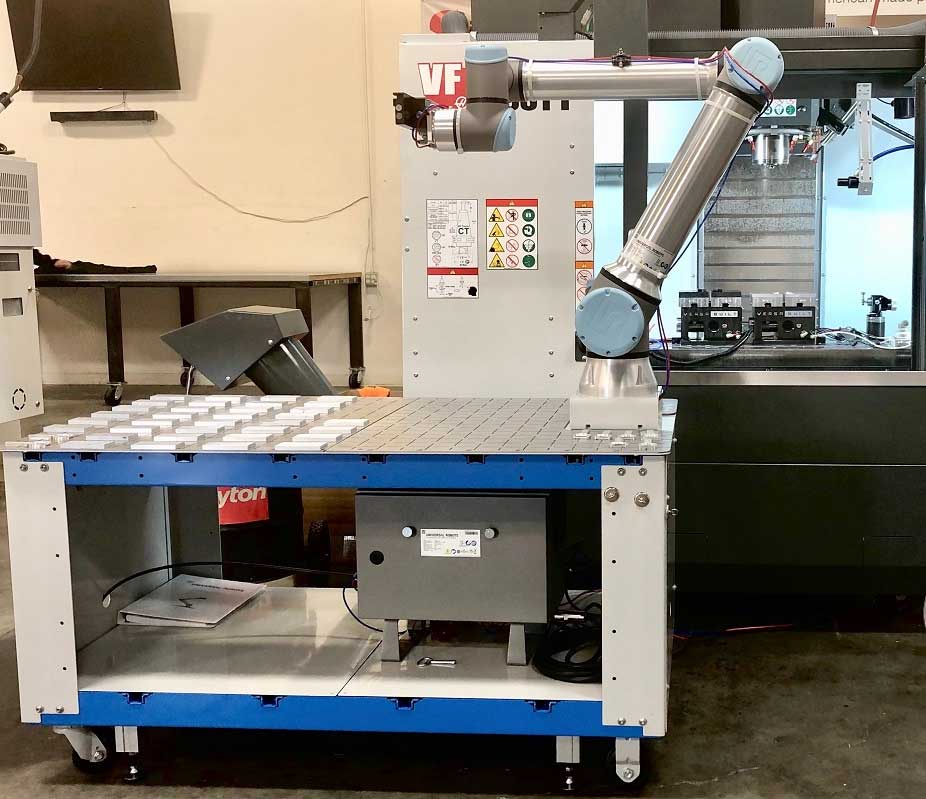 VersaBuilt Robotics was born out of the CNC production facility of Rekluse Motor Sports. Rekluse is a leading manufacturer of aftermarket motorcycle clutches. Being successful in the aftermarket motorcycle clutch business requires making many different part numbers in small quantities, with large swings in volume due to seasonal demand. Recognizing that CNC operator labor was a constraint for the business, Rekluse management made the decision to pursue robotic CNC automation.
Working with a local robotics integrator, and starting with traditional robot grippers and CNC vises, the team was soon struggling. Trying to integrate the dozens of diverse part shapes that were candidates for robotic automation was proving to be more difficult, time-consuming, and expensive than anticipated.
One day, after a frustrating round of failures, one of the engineers asked, "Why can't the robot and CNC vise use the same jaws?" After a round of glances with raised eyebrows, the discussion quickly moved to a whiteboard brainstorming session. The team recognized that if they could make a jaw system that was shared by both the robot and the CNC, they could truly generalize the integration of almost any part shape for automation.
After several months of R&D, the first version of MultiGrip jaws were put into production. With MultiGrip jaws, the team was soon integrating new parts for automation in hours instead of weeks. Patents for the new technology were filed.
The management team at Rekluse recognized that MultiGrip technology had applications far beyond the needs of Rekluse. In 2014, VersaBuilt, Inc. was formed as a new company to build automation products around the new MultiGrip jaw technology.
Today, VersaBuilt Robotics is a leading provider of automation technology targeted at high-mix CNC manufacturing. VersaBuilt automation technology is used by hundreds of manufacturing companies that have automated thousands of different part numbers.
MultiGrip Workholding System
MultiGrip provides faster change-over than other types of automation workholding, saving valuable labor and making it easy to justify adding lower volume parts to the automation system. And only MultiGrip has a simple, effective solution to the difficult problem of Op 1 to Op 2 transfer in CNC milling automation.
Automating Op 1 and Op 2 together results in improved part quality, longer automation run times, and more production with less labor.
When you buy into VersaBuilt's MultiGrip system, you are gaining the support and experience of a team of with more than 50 years of combined experience automating high-mix CNC production and committed to your success.
MultiGrip Vise
The MultiGrip Vise was designed from the ground up by CNC automation engineers with a total of more than 50 years of combined experience. The MultiGrip Vise is a pneumatic, automation-ready CNC milling vise with a quick-change jaw system. The MultiGrip Vise can be operator-tended or robot tended. Using an automation system incorporating a MultiGrip Gripper provides enhanced capabilities including:
Simplified Op 1 to Op 2 part transfer
Easier new part integration to the automation system
Faster part change-over
Increased automation reliability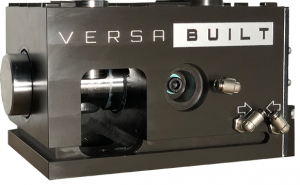 The MultiGrip Vise may also be tended using traditional robot grippers.
Whether you're looking for improved part quality and operator efficiency in a hand-tended CNC milling application or are ready to deploy a fully automated CNC machine tending system like the VersaBuilt Mill Application Kit, the MultiGrip Vise delivers.
Manufactured using precision 5-axis CNC
Jaw repeatability of 0.0005" (robot or hand loaded)
4500 pounds of clamping force at 120psi
Minimum clamping pressure of 10psi
MultiGrip quick-change jaw interface
Low-cost soft-jaw consumables
2-year warranty
MultiGrip Gripper
The MultiGrip Gripper is a pneumatic, long-travel gripper incorporating the MultiGrip Jaw interface. The MultiGrip Gripper works with the MultiGrip Vise and MultiGrip Jaws to deliver more capability for CNC milling automation. Instead of picking parts directly, the MultiGrip Gripper unloads MultiGrip jaws from a MultiGrip vise and uses the MultiGrip Jaws to pick parts for processing.
Leveraging the vise jaws for part transfer offers significant advantages for CNC automation:
Eliminates the need to duplicate part workholding for both the robot gripper and CNC vi
Allows machinist to easily create optimal part workholding in the CNC
Supports more complex part shapes than traditional robot part grippers
Simplified Op 1 to Op 2 part transfer
Easier new part integration to the automation system
Faster part change-over
Increased automation reliability
Works with OD or ID clamping
200 pounds of clamping force
Lightweight 1.8KG maximize robot part payload
2-year warranty
Qualifies for VersaBuilt's 60-day no-risk Guaranteed Success program
Robot2CNC Basic Edition
Robot2CNC is a small industrial computer that sits inside your CNC's control cabinet and provides a Ethernet control interface for any robot that has ethernet TCP/IP support. The Robot2CNC interface is simple and remains the same for all supported CNCs. For Fanuc CRX10 cobots, programming is greatly simplified with the Futura Automation pre-designed solution. that works on a standard handheld PC or pad PC. Other brands of robots can use Robot2CNC by making a TCP/IP connection to the robot and issuing simple text-based commands. By allowing the robot to select the CNC program number within the automation, both robot and CNC programming are simplified and the chance for expensive operator errors during change over are reduced.
Features
Select and change CNC programs from the robot
Cycle-start CNC from the robot
Verify CNC program completes successfully or generates an error
Common interface to all supported CNC controls simplifies programming
Bi-directional communication with CNC programs via CNC macro variable read/write functions for custom programming
Includes URCap to simplify programming with Universal Robots
New: Haas Cell Safe Signal support simplifies actuation of lathe chucks and tailstocks
New: Simplified network configuration reduces setup time
New: Updated URCap allows setup without a laptop
FANUC CRX10 OPTION
Futura Automation offers the FANUC CRX10 cobot with the VersaBuilt 1300.  Futura Automation believes the CRX10 is a superior cobot solution to the UR10 model and has a fully trained team to service and support the CRX10.

SIMPLE ASSEMBLY REQUIREMENTS
VersaBuilt Robot systems are easy to assemble, or a shop can contract Futura Automation to assemble and calibrate the system for them.
VersaCart 1300
The VersaCart 1300 is sized to provide a generous infeed area yet is compact enough to fit in even the most crowded CNC spaces. The VersaCart 1300 is CNC laser cut and formed from powder-coated steel for precision, durability, and long life. The Visual Infeed System allows for fast easy part alignment by the operator for pickup by the robot. The lower shelf provides storage for the robot controller and may also be used to store MultiGrip Jaws. The VersaCart 1300 is mounted on a heavy-duty caster for portability and includes leveling feet to secure the VersaCart into position in front of the CNC.

Visual Infeed
The VersaCart Visual Infeed System is a laster cut galvanized steel plate that bolts to the top of the VersaCart. A 2″ by 2″ alignment grid makes it easy for an operator to quickly and accurately align material to be processed by the robot. The grid pattern works well for both rectangular and rounds shapes. For non-uniform shapes, the Visual Infeed System can be removed in just a few minutes and replaces with custom laser cut part locators.
Locates parts for robot pickup quickly and accurately
Works with most part shapes
Maximizes infeed capacity over a wide range of part sizes
Reduces setup time and cost vs custom part locators
Removes in minutes for easy clean-up