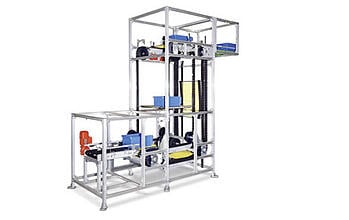 For over thirty years, NERAK Systems has been a global leader in specialized vertical conveying solutions, designing and manufacturing some of the world's most advanced vertical conveyor systems.
NERAK Systems' experience covers a vast range of materials, including powder & bulk materials, unit loads and packaged items.  NERAK experience extends from the specification of individual vertical conveyors to semi-integrated material handling systems. NERAK offers versatile, rugged, high-performance conveying solutions.
NERAK customers are the number one consideration at every stage. Their dedication to quality ensures that NERAK is synonymous with excellent performance every time. NERAK Systems' experts combine German engineering with American craftsmanship and innovation. NERAK's bucket elevators, pallet lifts and CVC's are true problem solvers for any plant or distribution center. No matter whether bulk material or unit good, NERAK can elevate your product.
All NERAK conveyors are powered by steel reinforced Rubber Block Chain, resulting in long life, low maintenance, low power consumption and large throughput.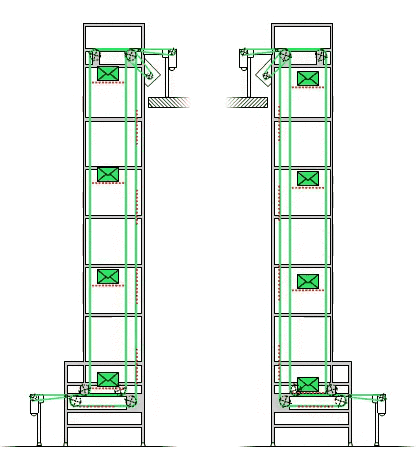 RUBBER BLOCK CHAINS BY NERAK SYSTEMS
NERAK Rubber Block Chains are the heart of every NERAK conveyor.
Rubber is molded around pre-stressed high tensile steel cables in a high pressure vulcanizing process. Chemical bonding between these steel cables and the specially mixed raw rubber compound ensures exceptional durability, strength and longevity.
NERAK offers a variety of different chains for a diverse range of applications and a large number of materials to be conveyed.
Rubber Block Chains
NERAK Rubber Block Chains are manufactured in different sizes and rubber compounds to supply the right Rubber Block Chain for the application.

Stretch Free
Featuring pre-stressed internal steel cables, NERAK Rubber Block Chains are virtually stretch-free. They maintain the chain length for their lifetime and ensure consistent bucket or platform spacing.
Lubrication Free
NERAK Rubber Block Chains require no lubrication, making them perfect for dusty products and food applications, keeping your conveyed products and conveyor clean.
Abrasion Resistant
Rubber Block Chains withstand the most abrasive products, unlike metal and plastic chains. The elastic surface of the chains allow the impact of abrasive materials to be absorbed without wear.
Clean
The smooth surface of the Rubber Block Chains can easily be cleaned with air or water. Lubricant free operation prevents dirt and conveyed product sticking to them.
Corrosion Free
NERAK Rubber Block Chains can be used in the most severe operating conditions, including submerged in water in rubber-extruding cooling lines. The powerful bond between the rubber and inner steel cables and endless design ensures a corrosion-free operation and a long service life.
Maintenance-Free
NERAK Rubber Block Chains provide a maintenance-free drive and transport system that does not need any lubrication or frequent re-tensioning.
Exceptional Strength
High-tensile steel cables ensure the exceptional strength of the Rubber Block Chains.
Compounds
NERAK Rubber Block Chains come in many different rubber compounds to ensure the best performance of our conveyors in your specific environment and application.
Temperatures
Whether you're running a freezer storage facility or a high-temperature iron casting environment, NERAK has the right Rubber Block Chain for your operation.