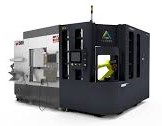 OVERVIEW OF MACHINING AND MACHINE TENDING
Machining is the process of material removal of a metal "blank" in order to produce a desired complex shape.
Machine tending refers to the automated operation of industrial machine tools in a manufacturing plant, primarily using robot automation systems. While loading and unloading is the primary function of machine tending systems
Often a robot performs other valuable functions within the automation system such as autonomous vehicle part delivery and removal from the cell.  Other tasks can be automated and integrated within the holistic view of manufacturing included CMM / part inspection, gauging, blow-off, wash, deburring & finishing, sorting, laser ID marking, packaging and shipping.
Benefits of machine tending systems include:
increased productivity
decreased direct labor
longer machine runs – 24/7
improved machine utilization
decreased overall production costs
improved product quality
enhanced machine safety
operational flexibility
inventory optimization
Because of the sophistication, functionality and costs associated with machine tending systems, most manufacturers require a capital approval process prior to investing in these systems where executive management must approve the purchase. Typically, an ROI (return on investment) is calculated to justify the purchase.  Futura Automation is equipped to assist with current cost capture and ROI calculation
VERTICAL MILLING – 4 or 5 AXES?
In the vertical milling machine the spindle axis is vertically oriented. Milling cutters are held in the spindle and rotate on its axis providing an "A" dimension.  A feed table provides an X, Y in a 3 axis mill and a Z dimension in a 4 axis mill. The spindle is a rotary axis and can generally be lowered (or the table can be raised, giving the same relative effect of bringing the cutter closer or deeper into the work), allowing plunge cuts and drilling. There are two subcategories of vertical mills: the bed mill and the turret mill.
When a "B" axis is also rotated, then there are 5 axes of motion.  A 5-axis machine provides infinite possibilities as to the part sizes and shapes you can effectively process. The term "5-axis" refers to the number of directions in which the cutting tool can move. On a 5-axis machining center, the cutting tool moves across the X, Y and Z linear axes as well as rotates on the A and B axes to approach the workpiece from any direction. In other words, you can process five sides of a part in a single setup.
Major Vertical Milling machine builders are:
Fanuc:  Robodrill D21B5
Haas: 5 Axis: VF, VR, GM, UMC
Hurco: 5 Axis: U, BX, SRT, VC/VCX
Mazak: 3, 4 and 5 Axis; INTEGRIX, VARIAXIS, VORTEX
DMG Mori:  CMX V, DMP, DMX, DMC V, NVX; 5 Axis:  DMU, CMX U
Okuma: GENOS, MU, VTM, MILLAC
Toyoda:  4 (FV-65, -80, 90) and 5 Axis
Matsuura:  MX, CX
HORIZONTAL MILLING –
A horizontal mill has the same sort but the cutters are mounted on a horizontal spindle (see Arbor milling) across the table. Many horizontal mills also feature a built-in rotary table that allows milling at various angles; this feature is called a universal table. While endmills and the other types of tools available to a vertical mill may be used in a horizontal mill, their real advantage lies in arbor-mounted cutters, called side and face mills, which have a cross section rather like a circular saw, but are generally wider and smaller in diameter.
Key Machine Manufacturers Are:
Mazak:  HC, MEGA, UN
Toyoda: 400, 500, 630, 850, 1000, 1250, 1600mm pallets
Hurco: HM1700i
Haas:  40-Taper, 50-Taper
DMG Mori: NH, NHX, DMC, DMU
Okuma:  LB, LT, MULTUS
Matsuura:  H-Plus
TURNING CENTER –
Turning is a machining process used to make cylindrical parts in which the cutting tool moves in a linear fashion while the workpiece rotates. Commonly performed with a lathe, turning reduces the diameter of a workpiece to a specified dimension and produces a smooth part finish.  A turning center is a lathe with a computer numerical control (CNC). Sophisticated turning centers can also perform a variety of milling and drilling operations.  5 Axis milling machines can be configured as a turning center, and so most 5 axis machine manufacturers offer a turning center version.
Key manufacturers:
Mazak: HQ, INTEGREX, MULTITEX, ORBITEC, QT
Okuma: GENUS, MULTUS, LB, LT, LU, V40R
Hurco: TM, TMX, TMM
Matsuura:  CUBLEX
DMG Mori:  NT, NTX, NZX, CTX, WASINO
ROUTING –
A computer numerical control (CNC) router is a computer-controlled cutting machine which typically mounts a router tool as a spindle which is used for cutting various materials, such as wood, composites, aluminum, steel, plastics, glass, and foams.  CNC routers can perform the tasks of many carpentry shop machines such as the panel saw, the spindle moulder, and boring machine. They can also cut joinery such as mortises and tenons.
INJECTION MOLDING and DIECASTING MACHINES
Injection molding is the process of forcing plastic (or metal in the similar "die-casting" process) into a mold.  The two halves of a mold are clamped in place with sufficient force to withstand the injection process.  Once the injection is complete, the molds are separated and the parts removed.  "Sprue", "Gates" and "Flash" will also require removal.  Injection machine molds can be fastened in either a horizontal or vertical position. The majority of machines are horizontally oriented, but vertical machines are used in some niche applications such as insert molding, allowing the machine to take advantage of gravity. Some vertical machines also do not require the mold to be fastened. There are many ways to fasten the tools to the platens, the most common being manual clamps (both halves are bolted to the platens); however, hydraulic clamps (chocks are used to hold the tool in place) and magnetic clamps are also used. The magnetic and hydraulic clamps are used where fast tool changes are required.
AUTOMATED STORAGE AND PALLET CONVEYING
Pallet Management Systems are a means of storing parts as they are in the machining process and automatically feeding those parts to the machine tool by both conveyor and ultimately a robot arm (called "tending") with appropriate tooling that feeds the part with work-holding tools, such as OMIL, into the machine tool.
Trinity Automation has developed three different levels of pallet management for a variety of use cases and machining volumes.
Trinity Automation:  AX1, AX2, AX5
The AX1 is a compact high-speed pallet management system designed to turn smaller CNC machining centers into fully automated production systems, ideal for the Haas DT & DM series, Fanuc Robodrill, and similar systems.
The AX2 is a medium sized pallet management system, with a size range of up to 16" diameter by 9" high. Well suited for side loading the Haas UMC-500, or Vertical machining centers such as the Haas VF2 or YCM NXV1020A
FINISHING:  DEBURRING AND POLISHING
Processed parts most often require some degree of finishing prior to application or sale.  Deburring can be considered a coarse finishing and might involve grinding or tumbling in media.  Polishing is another means of finishing a part, especially for cosmetic reasons.  For injection molded / diecast parts, there is also a de-gating, flash or sprue removal process.  Pallets used to transport parts into the machining process can also be used to transport the same machined parts to a deburring or polishing station
QUALITY INSPECTION and CMM
Many manufacturers will also be required to 100% inspect manufactured components for quality or adherence to tight manufacturing specifications.  There are a number of tools used to accomplish automated inspection, among them machine vision and Coordinate Measuring Machines (CMM).  In all cases, the handling of parts into and out of the inspection tools can be automatically accomplished with a robot arm.  Parts can be transported to an inspection station by the same pallets used for machining
AUTOMATED IDENTIFICATION LABELING
There are several techniques to mark finished parts with model and serial numbers.  Among these are laser printing, dot peening, RFID tagging and ink printing, in reverse order of popularity.
AUTONOMOUS MOBILE ROBOTS (AMRs)
Another tool to streamline manufacturing and reduce labor cost is the Autonomous Mobile Robot (AMR).  This is a still-developing technology to transport product on the factory floor without the need for conveyors or manual forklifts.  An AMR can move product to machine-side from another process or from machine-side into storage or packaging or shipping.
HOW TO CHOOSE A SYSTEM?*
Success in manufacturing always will be about profits, otherwise known as a Return on Investment (ROI).  There are two elements of Return or Profit, which are Revenues less Expenses.  Expenses can likewise be divided into two parts, Direct and Burdened (Overhead).  Direct expense occurs on the factory floor and is the actual cost of manufacturing a component.  Direct expense can also be divided into two parts: labor and capitalization (depreciation).  Labor includes not just hourly pay, but also benefits, employment taxes and additional support costs including safety risks.  Repetitive and simple labor that can be replaced by a machine should be replaced for global competitiveness.
Some shops still remain tied to their traditional ways, believing that familiar technologies will see them through new challenges. It won't — at least not in today's global market. Recognizing new technology, such as the advances in CNC, is a strategic decision that assures the future competitiveness of a company.
Justifying new technology is a multi-step process:
Step 1: Understand your costs
Use a transparent costing system, evaluate all cost factors including direct "all-in" or fully burdened labor, evaluate how new technology can improve cash flow, and calculate piece-cost and the influence of investment of new technology on production cost and return on investment.
Step 2: Understand potential benefits of CNC technology
Some of the measurable benefits include increased productivity, reduced set-up and tool change time, improved uptime, throughput, scrap rate and tooling costs, while lessening the burden of maintenance costs and job preparation costs.
Just as important, some of the intangible benefits of CNC include quality, accuracy, and improved surface finish, without depending on operator skill. It can also enhance process flexibility, with preset quick change tooling with standardized inserts and single point turning rather than costly form tools.
Step 3: Understand the costs of older equipment
Older equipment means more modest efficiencies, longer than planned set-up times, requiring vanishing skills to set up and operate. Equally important, older equipment cannot statistically hold tolerances, and produces excessive scrap parts, hurting efficiency, and adding to material cost.
Calculating Payback
There are a number of ways to evaluate the payback of new technology. Doing a Return on Investment (ROI) analysis can help you to make a good decision on whether to buy an expensive or less expensive machine.
ROI analysis indicates how the investment will impact a company's cash flow, based upon the revenues and expenses associated with the project. ROI is given as a percentage rate of return.
The company performing the ROI analysis must determine the rate of return for the investment based on the project cost and the impact the investment would have on its cash flow. Once the rate of return is determined, the company must then determine if it is an acceptable rate of return. Typically a 20 percent or greater rate of return is considered acceptable.
There's More
However, this justification method does not consider important technical and strategic aspects for maintaining competitiveness. Quality, for instance, is one of today's top priorities for end-users. This factor is a good example of what is not fully recognized in an ROI analysis. Quality depends not only on the type of equipment being used but also on the process, such as making parts complete in a single step.
In addition to quality, there are a number of other benefits — intangible benefits — which will have an impact on the competitiveness of the company. These may be as important as the impact of the investment on the cash flow. Considering these other benefits is a longer-term approach to investment that can ensure the survival of the company.
While the ROI analysis method has traditionally been used to analyze high-volume multi-year projects, it can also be used to analyze the wisdom of buying a machine for low-volume production of a large variety of parts over a number of years. The example shown was very simple, and there are many additional factors that you might want to consider, such as tax implications regarding new machinery.
Finally, ROI is not necessarily the same as profitability and competitiveness. Profitability depends on the cost per hour rate of the machine being considered for purchase and on the impact of the intangible benefits. Depending on a company's capital investment decision, the cash flow impact can be quite different from long-term competitiveness and profitability.
It is possible to have a high ROI and a low profitability, and the opposite is also true.
Look at a new machine purchase from both standpoints. Perform an ROI analysis, and also look at the long-term impact of the investment. Although profitability may initially be higher when looking at a lower priced machine; due to the long-term benefits, the higher quality machine purchase can be the most favorable choice for the precision parts producer
*Thanks to Jeff Reinert of Index Systems in article published in: https://www.americanmachinist.com/cad-and-cam/article/21892337/justifying-investment-in-cnc-technology