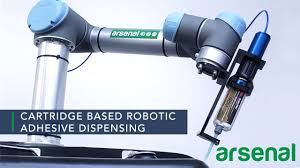 Arsenal Products' robotic adhesive dispensing systems leverage the accuracy and repeatability of a cobot or robot.  A cobot or robot paired with precision dispensing controls ensures a customer process is up and running quickly… in hours, not days, weeks, or months.  Programming is very simple on many of the most modern robots and cobots.  The Universal Robot's intuitive programming interface means you can deploy a precision dispensing system rapidly with no programming experience.
While most robotic dispensing systems provide a 3-axis motion, pairing Arsenal's robotic adhesive dispensing kit with a 6-axis Universal Robot gives you precision dispensing in any configuration or orientation. As a result,  the greatest flexibility and fastest deployment is achieved.
Dispensing kits are integrated with a cobot or robot including the entire Universal Robot platform. The robotic adhesive dispensing kit can be used with serial communications with the UR3, UR5, UR10, and UR16 cobots and currently through discrete I/O interface to other cobots and robots.  All of the dispense kits come with an end effector, pressure control box, mounting hardware, pre-labeled plug-and-play wiring (6' cables), and a starter program to get the system up and running in hours… not days, weeks, or months.
Precision Dispensing Control:
The Arsenal dispensing kits utilize the Universal Robot's Polyscope programming environment to handle all pneumatic dispensing controls. This means no external 3rd party controller to manage your pressure and vacuum pullback settings. The graphical programming environment within UR's Polyscope software ensures your adhesive process is up and running quickly. In hours, not days, weeks, or months. No prior programming knowledge is required. Don't settle for a g-code based robotic solution based on outdated technology.
Pressure and vacuum settings are defined through the robot controller and can be changed dynamically as required. Our system does not require a manual regulator to define pressure settings. This results in precise control of your dispense path for proper start of a bead, minimal stringing at the end of a bead/dot, and constant robot speed for the smoothest possible operation. Pressure defined by the robot also allows for a variety of bead sizes and shapes in a single robot program without the operator having to manually adjust a regulator. This makes high mix, low volume applications easier to setup and manage on your manufacturing floor.
Robot Compatibility:
Aubo: i3, i5, i10
Denso: Cobotta
Fanuc: CRX-10iA
Techman: TM5-700, TM5-900
Universal Robots:  UR3, UR5, UR10, UR16
Fluid Applications:
Cyanoacrylate, UV cure adhesives, RTV and silicone adhesives and sealants, epoxy
Silicone for medical applications
Conformal coatings. application of flux, and potting compounds
Primers, accelerators, and activators
Electrically conductive adhesives
Thermoset and thermostatic resins