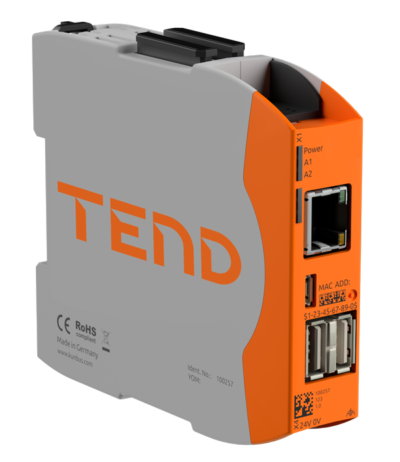 Futura Automation is pleased to be partnered with Tend for robotics monitoring requirements.  We support Tend with both a fixed hardware solution as pictured, for 1-3 robots, or can offer a Virtual Machine solution installed on an Industrial PC.  There is a base level of applications and then two additional levels of progressively sophisticated solutions based on the customer needs.  We support Fanuc, ABB (pending), Denso, Universal Robots (UR), Yaskawa-Motoman, Kuka, Omron/Adept, Nachi and Staubli and are willing to add other robots, as needed.  Contact us for a complete solution, including annual maintenance and upgrades.
Leveraging Big Data from Robots: IIoT, Predictive Analysis, and Small Data, Too!
by Emmet Cole, Contributing Editor, RIA
Robotic Industries AssociationPOSTED 03/22/2020
Edge computing keeps data secure in the factory.

Credit: Tend Robotics
The term 'big data' conjures mental images of vast data lakes, teeming with billions of data points.
These ever-changing data scapes are overseen by artificial intelligence experts equipped with state-of-the-art software and algorithms designed to extract actionable intelligence so businesses can stay competitive.
These mental images are correct.
But when you add industrial robots and all the other devices and sensors that make up the Industrial Internet of Things (IIoT) to the mix, the result is complex data on such a monumental scale that traditional metaphors –grains of sand on a beach, drops of water in an ocean– simply fail.
The best way to comprehend the amount of data generated by industrial robots is to compare a mobile robot to a smart device like an iPhone, says Rian Whitton, senior analyst for the Strategic Technologies research team at ABI Research.
"While a smart device plan might involve 50GB of data a month, a mobile robot with natural navigation, cameras, and LiDAR sensors will collect that much [data] in less than an hour," says Whitton.
"Translate that into hundreds of mobile robots, and the sheer scale of the operation required to ingest all that data becomes clear."
The benefits of leveraging all those data streams become clear, too.  With the right information on hand, manufacturers can identify weak links in their automation systems and implement fixes with the minimum amount of costly downtime and disruption.  Armed with specialist software providing structure amid the apparent chaos of big data, busy production managers can even predict where faults are most likely to occur.
The cost of a robot arm breaking down at a busy automotive manufacturing plant is counted in the millions of dollars, says Steve Sickler, President of Tend Robotics.
Analytics and predictive maintenance help protect factories from both catastrophic and small, but costly failures.

Credit: Tend Robotics
This leads to companies –those that can afford to do so, at least– keeping spares of the robots on their production lines so they can swap the machines out in minutes rather than absorb the costs associated with a time-consuming repair job.
While such catastrophic failures are uncommon, says Sickler, the cumulative effect of smaller delays also ends up costing companies a lot of money over time.
Tend's Cell.Mate offering provides predictive analytics alongside robot monitoring, analytics, and preventative maintenance tools.
"Our CTO came up with a … solution in which our software monitors a robot running a particular program to create a digital signature based on factors such as temperature, torque, and the amperage on each joint," explains Sickler. "Basically, it's an anomaly detection engine."
When it detects an anomaly, Cell.Mate sends out an alert, allowing those managing the automation to determine whether the change is due to some change in the robot's code (which Tend can detect and notate) or because of a fault developing in the robot's hardware.
For example, increased use of electricity by a robot might indicate that a bearing or reducer is getting worn despite there being no outward signs of wear. The ability to identify anomalies like this can stave off costly downtime, not just for large firms, but also for small manufacturers that don't always have a spare industrial robot arm available.
Tend adds value from day one and builds on that value over time.

Credit: Tend Robotics.
"By making a calibration based on normal operation, and setting up anomaly detection, we provide a fairly simple way to do predictive maintenance across a variety of data streams, including non-robot streams, in a factory," adds Sickler.
Tend Robotics offers its software on industrialized edge computing hardware that runs on 24V power and can feed any data stream. It requires no coding skills to set up, making it an attractive proposition for smaller manufacturers with little automation experience.
"You just snap it in, feed it data, and for 20 percent of the cost of a major big data operation –which is beyond the reach of many smaller companies in any case– we'll give you 80 percent of the benefits," says Sickler.
95 percent of Tend's customers are based in the United States and Canada, but the company is making inroads in Europe too. Many of these customers are integrators who use Tend Robotics' solutions to provide monitoring, reporting, predictive maintenance, and other services to their customers.
"Five years ago, if you wanted to do machine learning, you needed a lot of data and some very experienced data scientists who would write some really cool algorithms and do customized coding," explains Sickler.
"Eventually someone figures out how to create an application that takes out all that complexity doesn't require a huge upfront investment and starts giving you benefits from day one. I think this is the next wave of technology to improve factory efficiency."
Meanwhile, at Symbio Robotics, a California-based startup that's currently demonstrating its deep learning-based robot software both in the lab and at select automotive plants, the focus is on 'small data,' says CEO, Max Reynolds.
Credit: Symbio Robotics
"'Big data' implies batch processing of a data lake at 8 or 12-hour intervals. We come at it from a different standpoint. We're developing a product that can improve the performance of industrial robots in real-time," says Reynolds.
Symbio's software is loaded on an industrial server that sits on top of any industrial robot controller on the factory floor. It monitors robot performance and can take control of the robot for certain portions of a task. Within a few cycles, the software is able to update the robot's parameters to improve performance and efficiency.
"Our core thesis is that historically in industrial automation the focus has been on mechanical development," explains Reynolds. "This has meant a lot of costly investment in jigs, end-of-arm tooling, and fixtures to really hold parts in exactly the same orientation to overcome variance."
Symbio proposes overcoming these costly issues by using software to make robots more flexible and intelligent.
"All of a sudden you're not putting your investment into fixtures that work with just one part," says Reynolds. "You're actually building a system that can handle multiple configurations of parts and the software can be reused over and over again."
In a recent demonstration, Symbio's software trained a robot on how to best install torque converters into automatic transmissions –a delicate process that involves the mating of multiple gears and splines.
By taking control of the robot and having it repeatedly seat and unseat the torque converter, the software quickly learns the optimal insertion parameters.
"Software is your friend," says Reynolds. "We believe that making robots more intelligent will make existing robot applications more robust, increase the number of manufacturing applications that can be automated, and generally lower the barriers to automation adoption."
Symbio expects to release its software in the summer of 2020.
The value of robot software platform providers lies in their ability to orchestrate data between the edge and the cloud while providing analytics, fleet management, dashboards, and data visualization services, says ABI Research's Whitton.
In this "nascent space," Whitton adds, there are no market leaders. But with combined revenue from Robotics-as-a-Service and Software-as-a-Service expected to grow from US$3.3 billion in 2019 to US$157.8 billion by 2030, opportunities abound for companies that have found smart ways to leverage data, big and small.