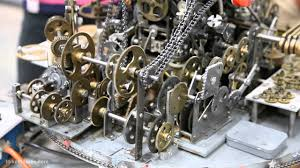 By Dave Perkon, Technical Editor
Reprinted from Control Design, Jun 27, 2019
https://www.controldesign.com/articles/2019/the-accumulating-case-for-deterministic-control/
What do machine builders, system integrators and manufacturers need to know about time-sensitive networking (TSN)? In simplest terms, it is better Ethernet.
What used to be many networks and gateways to meet performance requirements will be deterministic control and information on a single cable.
In addition to better performance, it will be easy to use, but the integrators and end users are happy to support current solutions.
"I don't think TSN will be complicating things for integrators involved with advanced manufacturing and robotics," says Brian D McMorris, president at Futura Automation in Scottsdale, Arizona. "We are a factory-floor integrator. We do not know much about the IT world, but our company structure and vision is focused on Industry 4.0, much of which is executed on the factory floor. For example, we are in the manufacturing-execution-system (MES) world at an application level with the Tulip Interface software line. We provide field-services capability and help customers implement the benefits of an MES, computerized maintenance management systems (CMMS) and quality management systems (QMS)."
Futura works with IT mostly on the security side, in terms of its cloud-based solution and how the cloud apps are secured. "I am sure it will be good to have IEEE take a company-sponsored protocol such as EtherCAT and turn it into a global open standard under the auspices of an industry association, but I do not really see any shortcomings of EtherCAT today, other than the license cost per device for its use," says McMorris.
While McMorris supports developments in networking technology, with EtherCAT he has not see many limitations. "We use EtherCAT with our Servotronix drives for multi-axis control on our open-design robots—cartesian and delta," he says. "It's a very fast proprietary network with jitter substantially less than 1 microsecond, but it's only suitable for certain hard and soft real-time computing requirements in automation technology."
Doug Putnam-Pite, director of software development at Owens Design in Fremont, California, appreciates that proprietary networks such as EtherCAT and CC-Link IE provide real-time communications, but he also acknowledges their limitations. "The downside to these technologies is they only work with control devices that support the protocol," says Putnam-Pite. "This means that you cannot have devices on the same network that do not support the protocol. These fieldbus networks must be separated from any other Ethernet networks in the tool."
TSN may allow devices that cannot currently communicate in real time to do so. "Time-sensitive networking gives integrators more options on how to architect control systems," says Putnam-Pite. "A tool with a time-sensitive network may be able to decentralize control, allowing individual devices to communicate directly with each other in real time, allowing some level of control to be offloaded from a central tool controller. Additionally, PCs may be able to communicate with time-sensitive network devices in a semi-real-time manner."
Progress report
"For machine builders, system integrators and manufacturers to deploy TSN, it needs to be incorporated into industrial-automation protocols and supported by a wide enough set of vendors to put together a system," says Paul Didier, TSN testbed coordinator, Industrial Internet Consortium (IIC, www.iiconsortium.org), and Internet of Things solution architect at Cisco. "That is not yet the case, but the industry is working hard to reach that goal (Figure 1)."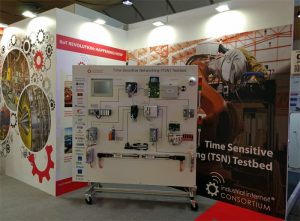 Figure 1: Testing of the numerous parts of TSN is well underway by many of industry's leaders in networking, automation and electronics.
(Source: Industrial Internet Consortium)
Work is underway to define the set of approximately 12 IEEE 802 standards aimed at addressing the determinism and quality of service required for TSN, says Dr. Al Beydoun, president of ODVA (www.odva.org). "In addition, inter-operability must be maintained. Completion of the IEC/IEEE 60802 industrial profile for TSN is key, and this is targeted for mid-2021," he says. "In the meantime, updates to network specifications such as the EtherNet/IP specification will not be finalized until the underlying standard of TSN is finalized."
Standard Ethernet is not deterministic by design, says Michael Bowne, executive director at PI North America. "Time-sensitive networking is a toolkit of roughly two dozen IEEE standards that create standardized deterministic Ethernet," he explains. "Now that other industries outside of industrial automation are interested in deterministic Ethernet, there is a larger market for the hardware. The idea is that eventually this technology will be available from commercial off-the-shelf (COTS) chips. Of the IEEE standards in the TSN toolbox, we've identified roughly half a dozen that are particularly relevant to industrial automation. These standards address determinism with features like synchronization, low latency, high availability, and robustness."
It's important to get the standard right, and that will take time. "As mentioned above, TSN is a toolbox of many different standards, and not just one thing," says Bowne. "Some are relevant to industrial automation, and some are not. To ensure that we don't end up with different flavors of TSN in industrial automation, an effort has been started known as IEC/IEEE 60802. It is currently staffed by engineers from automation vendors big and small to ensure harmonization across companies."
The digital factory demands inter-operability and simplicity in communications, says Armando Astarloa Cuéllar, CEO, system-on-chip engineering, at Relyum. "TSN is the new-generation Ethernet designed expressly to meet those requirements," he says. Although the introduction of TSN will be progressive depending on the sector, some critical ones like railway, automotive or aerospace, are adopting TSN as the standard IT/OT network in their new platforms.
Why should you care about TSN?
"From the user's perspective, at this time, the status of time-sensitive networking is at a bit of a standstill," says Paul Brooks, business development manager, networks—IIPA, global standards, OPC and time-sensitive networking, at Rockwell Automation. "The TSN standards in IEEE 802 have been published, but they only provide feature-level interoperability, not system-level interoperability," he says. "Therefore, from the vendors' perspective, we as the industrial automation community are developing IEC/IEEE 60802, which will determine the industrial automation profile for TSN to deliver this system-level interoperability."
Only when these standards are locked down will protocol organizations, such as ODVA, be able to publish that profile in specifications, continues Brooks. "Some companies have been releasing pre-standard products, and, while they will deliver user value, there is no guarantee that these products will be compatible with the final standard," he said.
In November 2018, OPC Foundation announced the Field Level Communication initiative supported by a very broad set of industrial and IT players: ABB/B&R, Belden, Cisco, Huawei, Intel, Mitsubishi, Moxa, Rockwell Automation, Schneider Electric, Siemens, among others, says Cisco's Didier. "The vision is to aim for an open, unified, standards-based IIoT communication solution between sensors, actuators, controllers and cloud addressing all requirements of industrial automation," he says. "The initiative will incorporate the OPC's work on pub/sub and TSN communication (Figure 2)."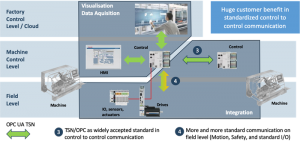 Figure 2: TSN communication with OPC UA will enable control applications to work on an open, standard network with a large variety of other traffic and applications—sensor to cloud.
(Source: Hilscher)
TSN enables all the control applications to rely on an open, standard network. "That network can also support a huge variety of other types of traffic and applications. This convergence and the ability to communicate, sensor to cloud are the key improvements," says Didier.
"TSN is designed to provide deterministic messaging and real-time capability over standard Ethernet in order to ensure communication of information in a fixed and predictable amount of time," explains Beydoun. "The key applications of TSN will be those requiring precision timing control and deterministic network behaviors. However, Ethernet TSN is desired in any industrial application where higher bandwidth and faster network response is desired as the case in network applications conveying audio and video information. TSN's scalability will allow high-bandwidth streaming of packets with a guaranteed latency at higher Gigabit transfer rates."
Why do I need TSN?
"Many integrators and machine builders question the need for TSN and claim the existing industrial Ethernet and related protocols, such as EtherNet/IP, EtherCAT and Profinet, meet their needs, so 'Why do I need TSN?' is a common question," says Bowne at PI North America. "It's a valid one, particularly because many of the techniques employed by TSN—synchronization, bandwidth reservation, scheduling—are ones we've been using in Profinet for more than 15 years. If TSN had existed back then, we would have adopted it and saved ourselves lots of engineering effort. And yet Profinet has always allowed high-speed control-related traffic to coexist plainly with other information-related traffic."
The exact same principle applies to TSN, so, again, why do you need it? "The answer is subtle and related to the future of networking," says Bowne. "As we move into the Industry 4.0/Industrial-Internet-of-Things (IIoT) realm, more and more information will be provided to higher-level systems. Eventually, it appears that some flattening of the Purdue Model may occur. While TSN may not be the driver of this, it certainly can be one of the tools to help enable it."
In the future we envision that as more and more bandwidth gets utilized by IT protocols, TSN will ensure time-sensitive—hence, the name—OT traffic receives the determinism it requires, even on networks loaded with other best-effort IT traffic, explains Bowne. "As long as they all share a common TSN foundation, then manufacturers can begin implementing converged IT/OT networks without having to worry about their OT traffic being sacrificed at the expense of IT traffic," he says. "We want to continue this long-held philosophy because we believe in using the right tool for the right task: the Profinet protocol for moving data, other protocols, for example, OPC UA, for moving information, all on a single wire."
The OT/IT integration roadmap does not end in an intermediate situation with a plethora of heterogenous devices connected through gateways, says Cuéllar at Relyum. "Instead, it raises the adoption of a communication technology at the link level that is valid for both worlds," he says. "In this way, it would be feasible for an all-to-all data exchange topology in a homogeneous plant, similar to a pillar (Figure 3)."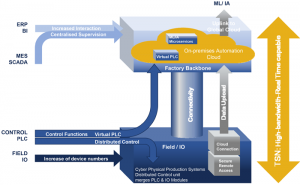 Figure 3: The automation pillar shows clear, high-speed connections between the plant floor I/O devices and controllers to the factory, enterprise level and to the cloud.
(Source: Belden via System-On-Chip Engineering)
This automation pillar is based on a blog post titled, "What is TSN? A Look at Its Role in Future Ethernet Networks," by René Hummen, senior architect—technology and innovation, at Belden.
In this pillar context, the traditional layer-based communication and cybersecurity scheme in no longer valid. "The elements included in the field I/O would communicate directly with applications and services enabled in remote cloud," explains Cuéllar. "Thus, it is critical to secure communication between the different devices. The real-time requirements of TSN represent one of the great challenges for securing this kind of network because traditional cybersecurity IT mechanisms can't guarantee the transmission of packets with the required latency."
TSN is not a protocol
TSN is just another better version of Ethernet; it's not a protocol. "What's improving is the infrastructure upon which all Ethernet-based protocols exist," says PI's Bowne. "TSN lives at the data link layer (Layer 2) of the IOS/OSI Model (Figure 4). Protocols live at the application layer (Layer 7) of the ISO/OSI Model. Gateways translate data between the different protocols, or languages."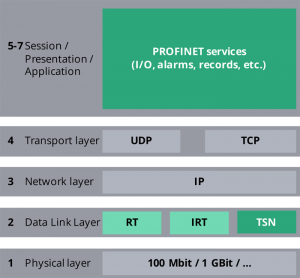 Figure 4: TSN resides in the Data Link Layer 2 of the IOS/OSI Model and is not a protocol, which resides in Application Layer 7.
(Source: Pi North America)
TSN is designed to be additive to existing network functionality. "Network functions that are available today and delivering reliable operations should be available in the same way after the introduction of TSN," says Brooks at Rockwell. "It should not force any change in behavior unless there is new value that justifies that change (Figure 5)."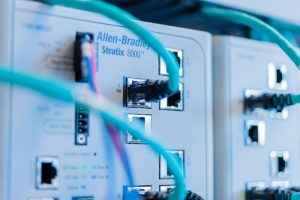 Figure 5: Much of the network hardware and functional reliability will remain the same after the introduction of TSN, but there will be value added to justify the change.
(Source: Rockwell Automation)
Focusing on EtherNet/IP, time-sensitive networking is completely independent of the communications protocol, continues Brooks. "The task for protocol organizations such as ODVA and OPC Foundation is simply to define how their protocols work with TSN and make TSN as transparent to the user as possible," he says. "And they need to do this while making existing quality-of-service mechanisms such as DSCP (differentiated services code point) an acronym that most machine builders and system integrators will never need to understand!"
How will TSN help an application?
"If we all do our jobs correctly, a machine builder or system integrator won't have to interact with TSN very much at all," says Bowne at PI North America. "It will be easy to employ and transparent to their Profinet-related tasks of engineering, configuring and commissioning. It's just a better version of the Ethernet employed today."
Time-sensitive networking is a tool that makes flattening of networks easier, but it is only one of the tools that make this possible and practical, says Brooks at Rockwell. "For instance, network segmentation is the heart of a secure network architecture," he explains. "Time-sensitive networking does not help with segmentation. For this you need to use routed protocols, and TSN does not support routing."
However, if you have multiple high-bandwidth streams going through a single cable, then TSN can certainly reduce the engineering efforts required to know that the network link will operate as expected, explains Brooks. "Each of the devices on a network can announce the volume of traffic and the periodic rate at which that traffic will be sent to the network infrastructure," he says. "The network infrastructure can plan network loading based on the overall volume of traffic flowing through the network. It also can protect network resources to help ensure that this volume of traffic can flow through the network."
TSN enables the various IE protocols to use a single, interconnected network for all the industrial control applications, such as I/O, safety and motion, and to co-exist with other devices, for example, video cameras, and applications while maintaining the deterministic network requirements control applications rely upon, says Paul Didier at Cisco. "In this way, Industrial IoT applications can directly and securely access end devices to extract very relevant data and information that often cannot be handled by a gateway," he says.
About the author: Dave Perkon
Dave Perkon thumbDave Perkon is technical editor for Control Design. He has engineered and managed automation projects for Fortune 500 companies in the medical, automotive, semiconductor, defense and solar industries.