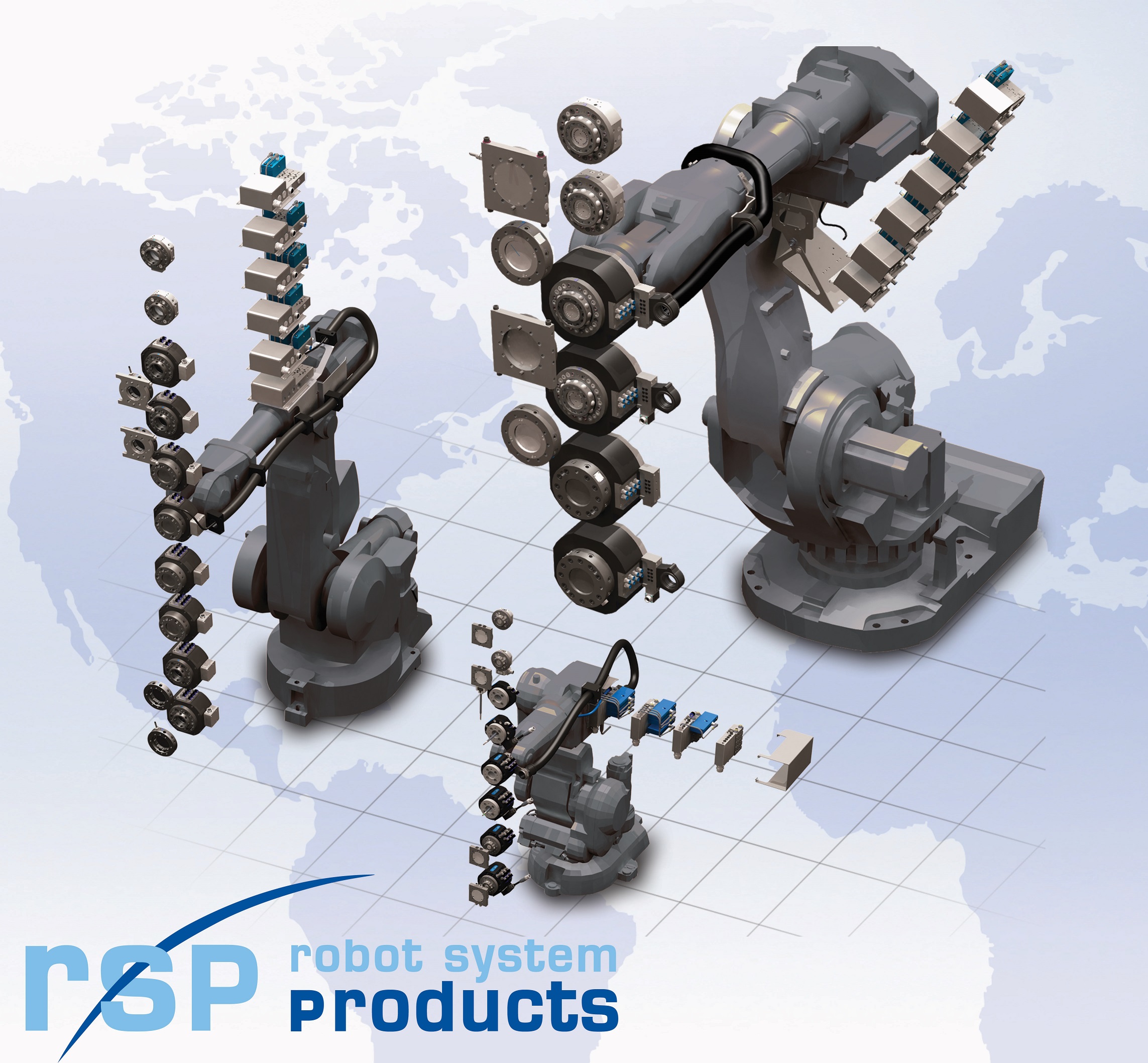 Futura Automation, LLC is very pleased to have been named the Western and Southeastern USA partner of Robot System Products (RSP) of Västerås, Sweden through a relationship with Essential Robot Products of Bellbrook, Ohio.   RSP has introduced a 20kg Swivel Tool Changer for all brands of robot arms: Fanuc, ABB, Kuka, Mitsubishi, Yaskawa, Panasonic, Nachi and Toshiba Machine.   RSP swivel tool changers unite the best out of two End-of-Arm-Tooling (EOAT) technologies: Swivels and Tool Changers.
With the TrueConnect™ tool changing mechanism integrated with our swivel technology, absolute positioning repeat-ability and large tolerances at docking is combined with full motion freedom of your robots – axis 6 is allowed to rotate freely (360 degrees) without being limited by hoses, cables or other obstacles. Low weight, high corrosion resistance and a minimum of service requirements will maximize up-time and consequently enhance your productivity in all applications involving substantial robot motions.  Sizes from 20kg to 350kg are currently available with larger sizes under development for Swivel Tool Changers.
Robot System Products Swivel Tool Changers are designed to maximize the flexibility and reliability of your robot fleet. Robustness and high safety are combined with low weight and compactness. Depending on model and options, electrical signals, weld and servo power, data, water and compressed air are transferred from the robot side to the tool.
The patented locking device TrueConnect™ has a minimum of play and gives a practically, through the lifespan, absolute positioning repeat-ability. The principle behind the locking mechanism is the uniform distribution of load, obtained by pressing looking balls into spherical grooves. In consequence, substantially larger positional tolerances are accepted during docking  of the Swivel Tool Changers.
Futura Automation, based in Scottsdale, AZ, is a Manufacturer Rep agency and value-added solutions provider focused for "Industry 4.0" and the automation needs of advanced manufacturing, end-of-line packaging,Swivel Tool Changer and robotics customers and system integrators. The team at Futura has 30+ years' experience in industrial automation and systems, making them an ideal addition to the RSP team. With offices in Arizona, California and North Carolina, Futura Automation will add significant coverage depth for ERP and RSP in the marketplace.
"Futura Automation covers the needs of robot and automation customers with our expertise and the breadth and depth of our product and service offerings.  We provide competitive solutions to tough manufacturing problems", says President Brian McMorris.  "We look forward to our partnership with ERP and RSP so that we can extend the range of our services and bring "Industry 4.0" benefits to more clients in North America."