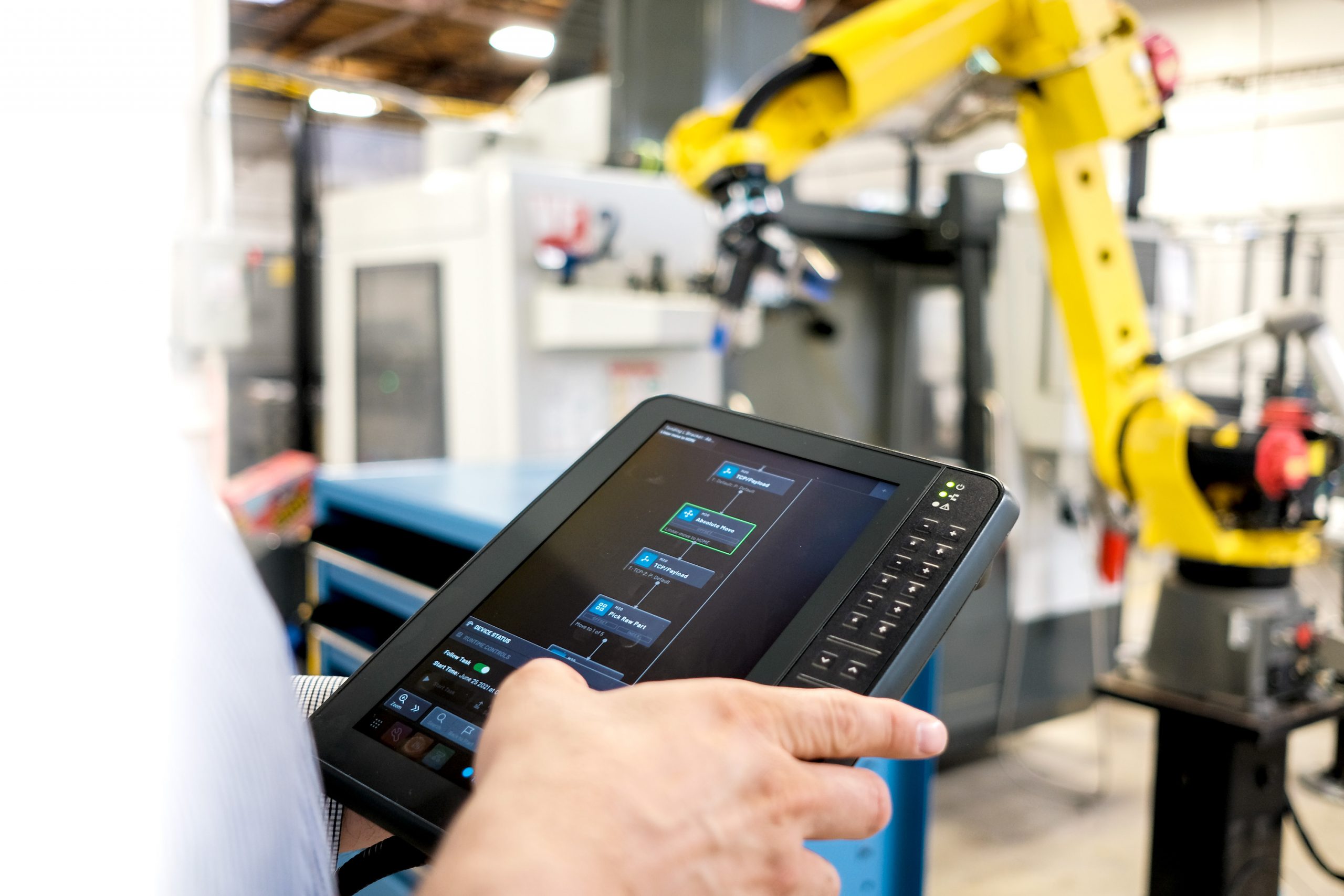 Futura Automation, a  leading provider of automation solutions for robotics, material handling, automated assembly and AI-driven machine vision applications, is pleased to announce a strategic partnership with READY Robotics. Utilizing READY's universal operating system for industrial automation, Forge/OS, Futura Automation will provide robot agnostic automation solutions that help manufacturing customers in the Western US states including WA, OR, CA, ID, MT, TX, LA, AR, OK, ND, SD, NE, KS, MO, MN, IA, to alleviate labor issues and solve production challenges. The Futura Automation solutions team will expand rapidly by providing demonstration equipment, training and inventory of Forge/OS-powered solutions.
Futura Automation plans to embed READY's Forge/OS software platform into several of its standard solutions, such as flexible feeding, with its partners Flexfactory, Cognex and Fanuc; machine tool robot tending with Futura Automation's VersaBuilt solution and Gantry Robotics, with its partners Macron Dynamics and Sanyo Denki. Several more solutions are under consideration and will be developed based on customer demand. By leveraging Forge/OS in their solutions, Futura Automation will be able to interchange robots from different brands to best meet the needs of the customer or the application.
"Futura Automation provides innovative solutions for tough manufacturing problems. Our team is focused on helping our customers compete in global markets and allow reshoring of production using automation tools such as robots, machine vision and artificial intelligence," said Brian McMorris, President, Futura Automation. "READY Robotics speeds up and simplifies the development and execution of robot manufacturing systems. Our team will provide the required training and support to quickly and economically implement robotic solutions."
With support for FANUC, Yaskawa, ABB, Kawasaki, Staubli, Epson and UR robots, Forge/OS provides a single intuitive programming interface for hundreds of models of collaborative and industrial robots, as well as the peripherals required for automation. Beyond enabling Futura Automation to create automation solutions that scale across robot brands, Forge/OS enables Futura Automation to deploy solutions that their customers can manage – including programming for new parts or new tasks, touching up programs, or recovering systems on their own.
Ben Gibbs, CEO and Co-Founder of READY Robotics believes this partnership can significantly benefit manufacturers hungry for automation. "Complexity prevents many manufacturers from utilizing automation to alleviate production challenges. Robots need to be easier to use, but that's not enough. That's why we're so excited to partner with such a respected and experienced solution provider in Futura Automation. Adding an intuitive, robot agnostic platform to their arsenal, will make automation much more accessible to the manufacturers that need it most. This partnership will also make Forge/OS-powered automation far more accessible to manufacturers in the Western US."
About READY Robotics
Founded in 2016, READY Robotics makes software that vastly simplifies robot programming. READY's core product is Forge/OS, the first industrial operating system for controlling robots from top robot OEMs, as well as the peripherals needed to make those robots productive in a real world environment. Through enterprise-grade software (Forge/OS), a robot-agnostic marketplace for automation (READY Market), and an online automation learning platform (READY Academy), READY makes it dramatically easier for manufacturers of all sizes and technical backgrounds to leverage robotic automation to solve production challenges, improve productivity, and increase competitiveness.
About Futura Automation
Futura Automation, based in Scottsdale, AZ since 2017, is a robotics and automation solutions provider focused on robotics, material handling, automated assembly and machine vision solutions that augment human labor and fulfill the promise of "Industry 4.0". The team at Futura Automation averages 20+ years' experience in industrial automation and robotic systems.  F-A has offices and representatives in Arizona, California, Colorado, Kansas, Illinois, Indiana, Iowa, Minnesota, Ohio, Oregon, Washington and Wisconsin in the USA and in Queretaro, Mexico.  Futura is well positioned in the highest growth industries in North America. Learn more at https://futura-automation.com.