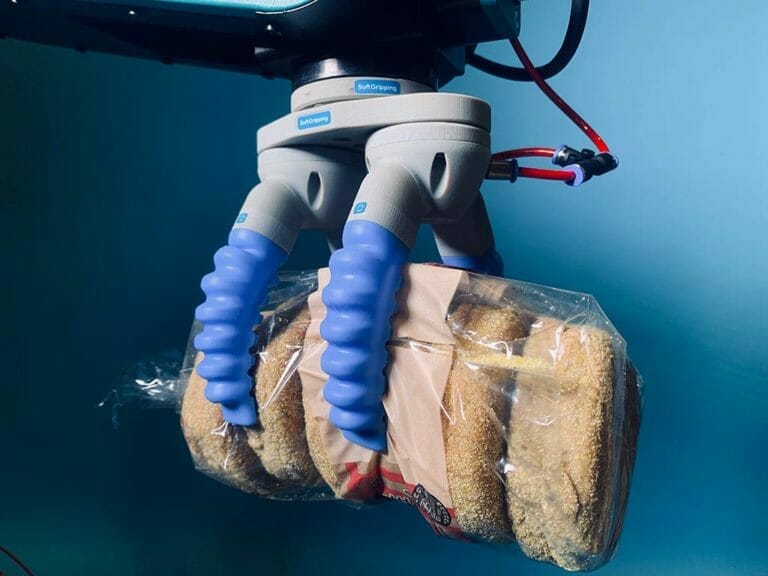 SoftGripping is the innovative and modular new approach to gentle gripping of soft objects by industrial robots and cobots.  Futura Automation supports the entire range and will provide technical assistance as required along with samples for evaluation.
The Modular Gripping System For Highest Hygienic (FDA) Requirements
Elements Of A Hygienic Gripper
A SoftGripping Hygienic SoftGripper is made out of two elements: The base and the finger arrays.
The base will be adapted to the shape of your object. While a circular object needs a centric base, a long object needs a parallel one.
We like to design a fully individual base for your task in shortest time. The angle of the fingers and the size of the base is specially made for your special requirements.
To adapt to the dimensions and weight of your object, we use our finger arrays with different number of fingers. The arrays are easily mounted to the base with integrated air supply. Our pneumatically driven fingers are made of FDA-approved silicon rubber with a lifetime of more than 10 million cycles.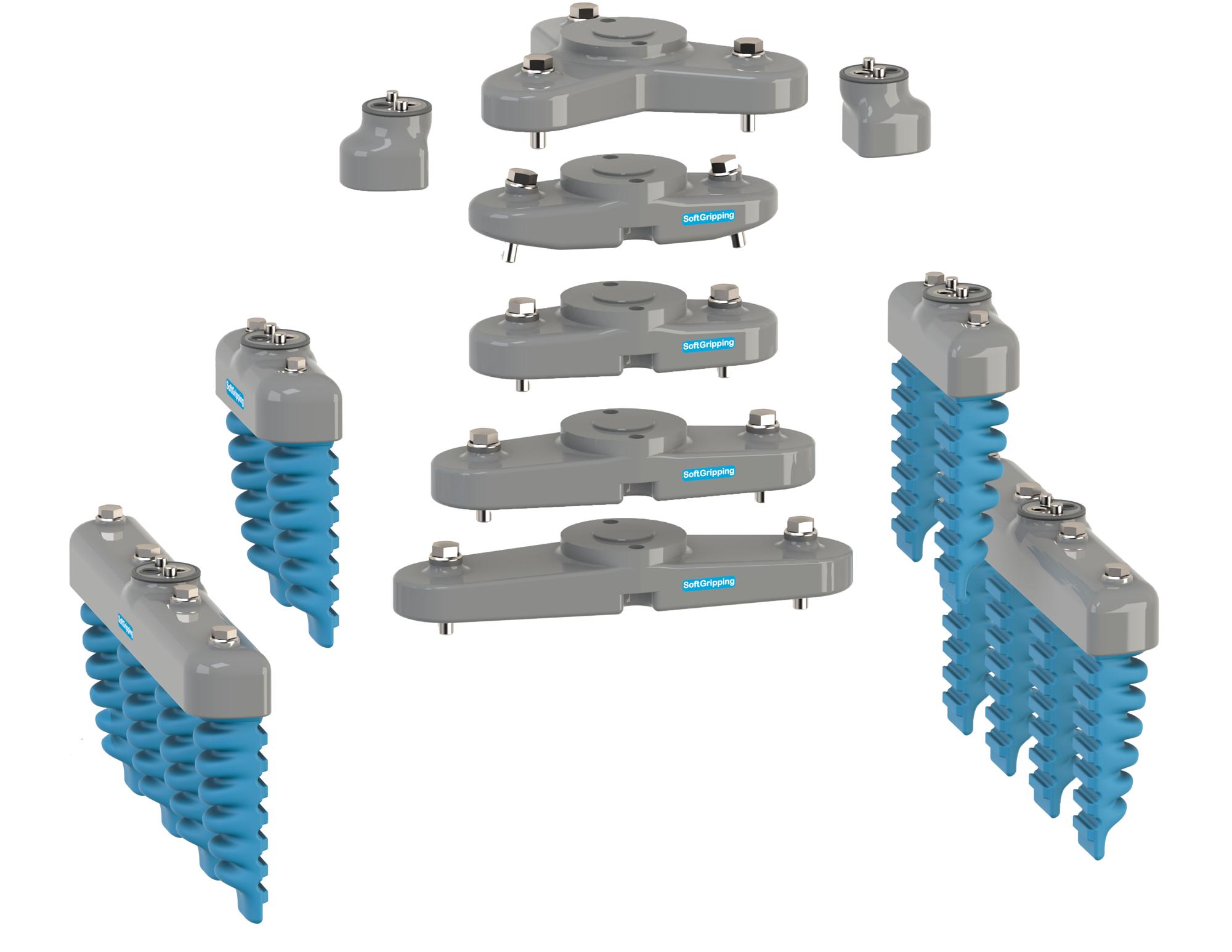 There are special hygienic requirements for different foods. SoftGripping Hygienic Gripper beats them.
All parts are connected by hygienic screws and can be easily unmounted for cleaning. Our special connection of the silicon rubber fingers to the array are designed for highly hygienic requirements. Every Part can be cleaned with most fierce cleaning agents.
To keep the pneumatics hygienic, the supply to the fingers is established through the arrays to the base plate and fed from there via a single input. By using appropriately sized pneumatic valves, the system is suitable for the fastest delta robots on the market.
To connect the SoftGripper to your robot, we offer a wide range of iso-standardized adapters. If you need a custom adapter for your system, please send us your technical drawing.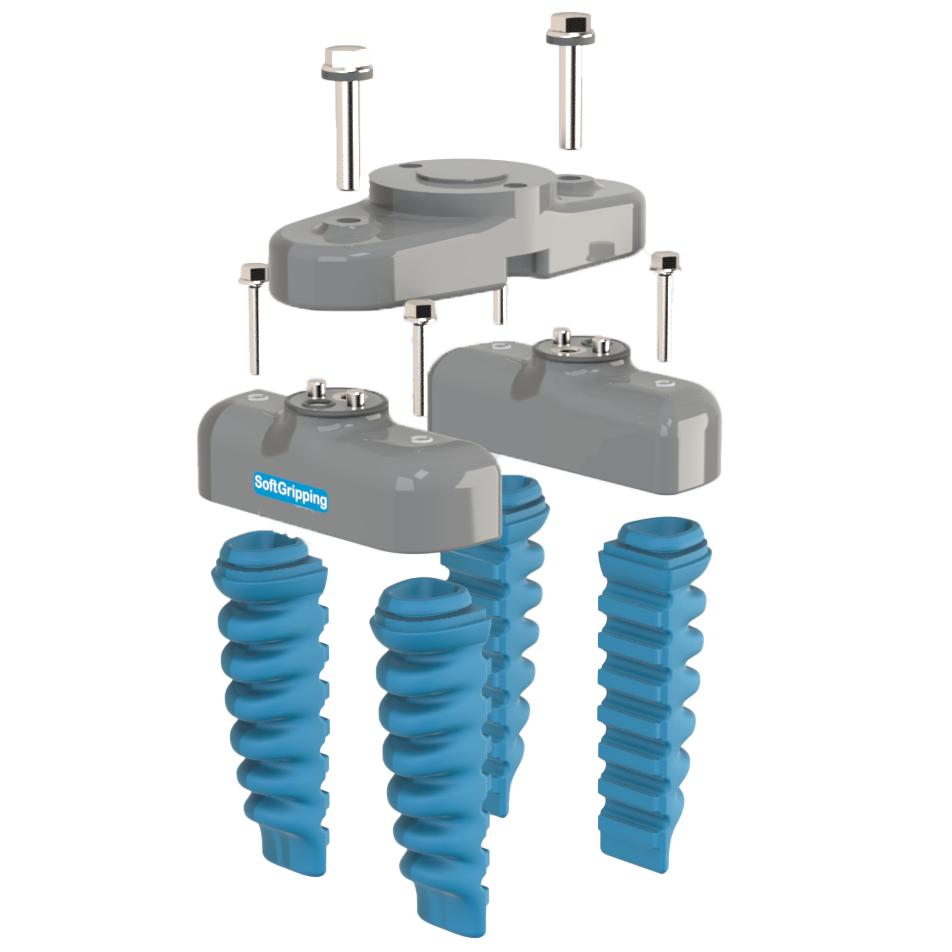 Examples Of Hygienic Grippers
Maximum Variations For Maximal Diversity Of Gripping Objects
What Is Hygienic Design And Why You Need It
What Are You Looking For In A Hygienic Gripper?
Planning highly automated setups is a long journey. In the automation of food processing operations, one aspect tends to be neglected: Making sure all parts and details are easy to clean and to maintain.
What is often considered a prerequisite for meeting regulatory hygiene and food safety guidelines is an important topic to dive into. A thoughtful hygienic design saves you time in cleaning and maintaining facilities. Over time, even a small mistake can lead to unsanitary spaces that are a hassle to keep clean. With this in mind, we worked with our customers to develop our hygienic line.
The variety of applications had to be reflected in a gripper design. From cheese, sausage, meat fillets to fish, the objects themself have a high variance in size and weight between them. Often, a system must be designed to quickly adapt to other product dimensions of the same food product, like different type of bread and buns.
The special design minimizes gaps by reducing the number of elements used and using adapters with our new hygienic locks instead of our bayonet locks. Here, fingers can be unmounted and cleaned separately by opening the hygienic screws and simply pulling the fingers out of the array.
A second important aspect of the hygienic design covered by this product line are the beveled corners and sloped surfaces that facilitate decontamination preparation.
Incidentally, the bases and fingers are resistant to common solvent or oxidizing solutions and can even be pressure washed together in the assembled device or removed from the robot for cleaning in the dishwasher.
Replacement In Many Suction Cup Applications
Replace unhygienic suction cups: A major advantage of fingers over suction cups is the completely delimited pneumatic system. When using suction cups, a major problem lies in the open pneumatic system. Without a proper filtration system, there is a risk of litter and unsanitary contaminants entering. If the system is completely disconnected from the pneumatic supply -as it is with our fingers-, you do not have to worry about residue and dust clogging up the system or making it violating the unhygienic standards.
https://www.youtube.com/watch?v=0PP-yobUgOU&list=PLX_r-x9WrgRQ4UBGNERuGqTaaIn-hviLd&index=1