We are pleased to announce that Futura Automation, Scottsdale, AZ, and Sanyo Denki Motion group have partnered up to provide motion control solutions in the American Southwest and beyond. Futura Automation will begin designing in Sanyo Denki servo and stepper drives and controllers on all its projects and solutions requiring precise motion control. Futura Automation now offers:
SERVO MOTORS
SANMOTION R
High-performance AC servo systems consisting of servo amplifiers with advanced vibration suppression and highly efficient servo motors. High resolution encoders improve trajectory accuracy and position repeatability by dramatically improving responsiveness. By providing optimal performance, this is a key component for reducing cycle time and improving production efficiency.  Motor sizes are available from 20 Watts to 30 KiloWatts (over 40HP equivalent).  Frame sizes start at a tiny 14mm up to 275mm square (flange)
R2 Servo Motors
R2 Servo Motor wide inertia lineup. They are ideal for use in equipment such as robots, injection molding machines, and general industrial machinery.
R1 Servo Motors
R1 Servo Motors are low inertia servo motors with low inertia and high acceleration for agile operation. These are ideal for inspection and high speed electronic production equipment.
R5 Servo Motors
R5 Servo motors are medium inertia servo motors that are ideal for smooth operation in a wide range of industries, including robot gantries and conveying systems.
SERVO AMPLIFIERS
Sanyo Denki and Futura Automation provide more evolved AC servo amplifiers that provide improved basic performance including high responsiveness, and pursue eco-efficiency and ease of use.
Batteryless Absolute Encoder
The encoder has no batteries so it can be maintenance free. It is ideal for mobile and transportation equipment and industrial equipment needing high accuracy, such as machine tools, injection molding machines, and robots.
Batteryless
Battery replacement maintenance is not needed, so manpower and time are significantly reduced.
High Resolution Encoders
The number of divisions in a revolution is up to 8,388,608 (23 bit).
This enables fine equipment control.
Environmental Durability
The operating temperature range is from -20°C to +105°C
The environmental vibration limit is a maximum of 147 m/s2 (15 G).*1
They can be used in harsher environments than our conventional products.
SANMOTION T
DC Servo Systems with excellent stability at low speeds, that achieve high precision positioning when combined with high-resolution encoders. Also, with control functions and a variety of user support functions, it is possible to easily set up for optimum operation.
Suitable for measuring devices and general industrial machinery.
Stable low speed operation
DC servo motors have excellent electrical response when stopped or at low speeds because of their low electrical time constant.
By reducing cogging torque, stable operation with low speed ripple can be obtained, even at low speeds. In addition, a high performance tacho-generator and high resolution encoder can be installed to detect and suppress low speed ripple.
Compatible with low-voltage specifications
23, 40, and 60 W motors can be selected with 24 V motor winding specifications.
With a low power supply voltage, it is easy to miniaturize servo amplifiers. Also, because of excellent safety characteristics it is suitable for applications where safety standards are strict, such as medical machines.
System accuracy improved by damping control and disturbance suppression function
With feed-forward vibration suppression control, vibrations at the end effector and base can be suppressed. In addition, in multi-axis configurations the disturbance observer suppresses vibrations from other axes. Also, a 4th order notch filter reduces phase delay to suppress mechanical resonance, and improves equipment speed response.
These features improve system accuracy and shorten cycle times.
Easy setup and tuning on PC
From setting parameters to a test run with the jog function, initial setup can be easily performed from a PC. A new auto-tuning algorithm improves system response by providing functions such as inertia identification and parameter setting.
Support functions, such as a waveform tracing function and a system analysis function that clearly displays monitored waveforms such as position, speed, and torque, provide powerful system tuning support.
SANMOTION T Servo Amplifiers use the same setup software as our SANMOTION R AC Servo Systems.
Achieves a 30% reduction in power loss, contributing to reduced running costs
Power loss in the main circuit is reduced by 30% through the introduction of a low-loss power module. It is both smaller, and more efficient. Contributes to reduced running costs.
Both amplifiers and motors conform to international product safety standards
Our standard servo amplifier has attained the UL, c-UL, and EN standards, and servo motors that have attained the EN standard can be selected.
STEPPER MOTORS
SANMOTION F5 ( 5-phase )
5-phase stepping systems realize high torque, low vibration, and low noise, and enable high-accuracy positioning. Also, the wide lineup can be used in a wide range of applications.
High torque with compact drivers and motors
By reviewing and optimizing parts, we have achieved significant size and weight reductions over our conventional products. High torque is available from compact drivers and motors.
Auto-micro/micro-step drive, for low vibration and smooth operation
The auto-micro function enables smooth operation even with one-division (full step) and two-division (half step) course resolution settings. Vibration can be suppressed regardless of constraints on the control unit.
With micro-step driving, the basic 0.72°step angle can be set to a resolution of up to 250 divisions in 16 levels. This realizes smooth operation with low vibration.
A wide variety of set models are available to match the characteristics of your equipment.
Sets including motors and drivers are available in either AC or DC models. DC set models include micro-step and full/half-step drivers.
Linear Actuator Stepping Motors contribute to effective use of mounting space.
Linear Actuator Stepping Motors achieve miniaturization by integrating a ball screw with the motor. This contributes to space-saving in equipment and efficient use of mounting space.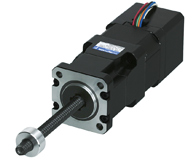 Flexible customization, including support for vacuum environments, is available to meet individual requirements.
We are specialists in customizing our products to flexibly meets customer needs. We can propose solutions based on your equipment development needs.
For example, we can make customizations to handle a wide range of vacuum environments, from low- to ultra-high vacuum. These are almost the same size as regular stepping motors, and can be driven in vacuum environment without requiring a vacuum feedthrough.
In addition, we can respond to your individual requirements, with adjustments such as torque and speed. Please do not hesitate to contact us.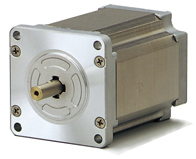 SANMOTION F2 ( 2-phase )
With high torque, low vibration, low noise, and high resolution. Their rich lineup is used in a wide range of fields.
Rich lineup
0.9°step angle type
The high resolution model realizes a dramatic reduction of vibration and noise by changing the basic step angle from 1.8°to 0.9°(Approximately 80% reduction in vibration at 42 mm sq.). Enables smooth driving and accurate positioning.
Thin type
This high-performance thin stepping motor effectively uses device space. Depending on the torque required, four motor lengths can be selected.

14 mm compact type
The flange size and weight are both the smallest in the industry*1, at 14 mm and 28 g, respectively. Though small, it maximizes torque, and positioning can be performed with high accuracy. Two types of output shaft are available: single-shaft and dual-shaft.
*1 As of March 1, 2017.

Mounting surface damper (Option)
The rubber material of the damper suppresses the transmission of motor vibration to equipment, suppressing noise.
Strong support for product development with abundant technical knowledge and know-how
The SANMOTION F2 series offers a wide variety of models that can be selected to meet the needs of the application. In addition, motors can be customized according to customer needs, such as with hollow shafts, connectors, or adapted for use in vacuum environments.
SANMOTION C
Ultra-compact?SANMOTION C?motion controllers featuring high-speed EtherCAT fieldbus are available in a high-performance type for controlling robots and a standard type that specializes in PTP (Point-to-Point) positioning. They are suitable for motion control applications such as robots, conveying machines, and semiconductor manufacturing equipment.
COMPACT MOTION CONTROLLERS
These ultra-compact motion controllers measure only 120 mm (H) × 55 mm (W) × 110 mm (D).
Their small footprint design supports space saving and cost reduction.
Flexible System Configuration
The new lineup features two types: an A type which can control robots and electronic cams, and a B type which specializes in PTP motion.
It is possible to control I/O signals while performing complex multi-axis motion and robot control. This enables flexible system configurations for a variety of applications and functions.
IoT-enabled
Ethernet, RS-485, and USB interfaces for connecting to various peripherals come standard. It is also possible to use Modbus TCP over Ethernet.
The new models also conform to machine-to-machine (M2M) communication standard OPC-UA(2)?to seamlessly connect to various devices.
In addition, with the web server function, it is possible to monitor the operational status, and read and write program variables using a standard web browser on any PC. These models make it simple to integrate IoT technology into any system.
(1) Internet of things: A system that connects electronic devices to a network so that they can communicate, interact, and be mutually controlled.
(2) Object Linking and Embedding for Process Control – Unified Architecture: Data interoperability standard.