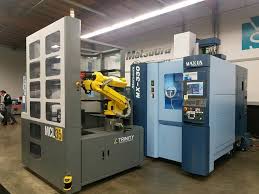 <!doctype html>
FUTURA AUTOMATION | SEPTEMBER ROBOT ISSUE 
Our automation partners help
our customers achieve more:
Today we'll cover Advanced
Manufacturing in the IIoT.
This month's email issue is devoted to our partners in automation.
Check out the videos and resources on machine tending and
the companies who help us achieve Advanced Manufacturing
for our clients on a daily basis.
A nod to our incredible partners!
FUTURA AUTOMATION | MACHINE TENDING
Machine tending
is the process of automating the loading and unloading of industrial machine tools in a manufacturing plant, primarily using robot automation systems.
While loading and unloading is the primary function of machine tending systems, the robot will often perform other valuable functions within the automation process.
This might include part inspection, blow off, part washing, deburring, sorting, packaging and gauging.  In this issue you'll find a few innovative solutions for machine tending.
FUTURA AUTOMATION | MACHINE TENDING VIDEOS
Machine Tending: Here's how the pro's do it
A machine tending robot must have a high degree of wrist, or 6th axis, rotation in order to deal with confined spaces of the handling enclosure.  One of our product lines is
Robot System Products (RSP)
and the new
CIRO tool swivel
:
FUTURA AUTOMATION | MACHINE TENDING VIDEOS
Trinity Robotics Automation, a Division of Selway: Sneak Preview Video of Trinity Automation
MCL-12S
The VBX-160 is a revolutionary universal machine tending solution. It requires absolutely no programming, can be set up in less than a day and requires little operator training. Over its life time the VBX-160 costs about $1/hour
FUTURA AUTOMATION | WHITEPAPER
Mobile Robots that are
collaboration adept
Once a p
art, or pallet of parts, has been fabricated at a machine cell, it must be transferred to another location for the next step in the manufacturing process.This can be done manually, with a push cart, a belt conveyor like
QC Conveyor, a pallet conveyor for more precise location like Glide-Line or automatic transfer with an autonomous mobile robot. 
FUTURA AUTOMATION | WHITEPAPER
Another aspect of Advanced Manufacturing is post-machining or the finishing of parts: De-burring, Grinding, and Polishing.
Once again, Futura Automation has innovative solutions through our component manufacturing partnerships: Applied Robotics for tool compliance and turnkey robot EOAT finishing solutions and OnRobot for force sensing and gripping for smaller and collaborative robots.
FUTURA AUTOMATION | OUR SUBJECT MATTER EXPERT
George Wilken is our resident Advanced Manufacturing expert and can help with creative solutions to improve productivity.
Connect with him on LinkedIN 
here
:
FUTURA AUTOMATION | EVENTS
OCTOBER 14-17
THE PACK EXPO:
CHICAGO, ILSee robots in action. Our partner companies will be at the Pack Expo in Chicago: EDrive Actuator #N-5821, Joulin #E-10550, QC Conveyor #S-4314
OCTOBER 23-25
The Assembly Show:
Rosemont, ILSee robots in action. Our partner companies will be at the Pack Expo in Chicago: EDrive Actuator #N-5821, Joulin #E-10550, QC Conveyor #S-4314
FEBRUARY 5-7
The ATX West:
Anaheim, CAFutura Automation will host an exhibit with Technology Brewing, Essential Robot Products, OnRobot, Macron Dynamics and Flexomation in booth #4481