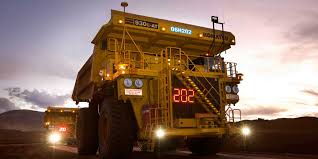 Amazing to say that we are on the doorstep of autonomous electric trucks.  This is the next great wave in transportation.  Many experts five years ago thought it would be 2030 or 2040 before this day arrived.  Now just a few short years later, it looks like we will have commercial autonomous trucks and then electric trucks by 2020, just 2 years from now.
Volvo is on the cutting edge of this autonomous electric trucks wave.  They have demonstrated a "hub-to-hub" concept used for moving containers at seagoing ports autonomously within the port facility, and then, with the aid of a human observer, move the container outside of the port facility on public highways.
Volvo now demonstrated a functional autonomous electric truck for open pit quarry operations.  Caterpillar and Komatsu have already introduced and put into operation diesel autonomous mining vehicles at open pit and underground mines where traffic is tightly controlled.  Putting autonomous electric vehicles onto highly dynamic highways and city streets is a much greater challenge.  Here is a post by David Mantey, one of the contributing editors at "Thomas":
Volvo is trying to create the world's first emission-free quarry.

On August 29th, Volvo's Construction Equipment (CE) division kicked off a 10-week test as part of a $22 million collaboration with Skanska, the fifth-largest construction company in the world.

The project has been enthusiastically dubbed, the Electric Site, and it hopes to make every stage at a quarry — from excavation to crushing — electric. The goal is to be at least 95% electric as some diesel will still be used.

The quarry is using a combination of electric and autonomous Volvo prototypes. The team thinks the site is capable of a 95% reduction in carbon emissions as well as a 25% reduction in operational costs.

The concept machines at the site include the HX2 load carrier, the EX1 excavator and the LX1 wheel loader.

The 70-ton EX1 cable-connected excavator prototype is a Volvo EC750 crawler excavator that has been upgraded with an electric motor. The EX1 will primarily load blasted rock into a mobile crusher. Because the machine will mostly remain static, the team says it can stay plugged in. If/when it needs to be unplugged, the EX1 switches to diesel.

The site will also have eight small prototype HX2 load carriers. The autonomous, battery-electric carriers move material between the primary and secondary crushers. These carriers have a vision system that can detect humans and obstacles at it follows an adjustable, but pre-programmed GPS path.

The LX1 is a hybrid wheel loader that has electric driven hydraulics, electric drive motors mounted at the wheels, and a significantly smaller diesel engine. The prototype has an entirely new machine architecture that is made up of 98% new parts.

The machines are all controlled by a site management system called Site Assist, which controls the overall site operation and tracks production KPIs. The quarry project is part of Concept Labs, the innovation side of Volvo that is also working on advances in electromobility, automation, and connectivity.

The quarry project has been in development since mid-2015 when Volvo received about $6.5 million from the Swedish Energy Agency and partnered with a pair of local universities to bring it to fruition.

https://www.youtube.com/watch?v=eiNtoFbHLU0
The future is bright for "carbon-free" and "driver-free" logistics and transportation.